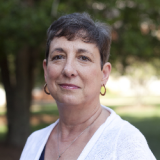 Kitty McNeill
Dean, Oxford College Library
Education
Professional Profile
Kitty McNeill is the Dean of the Library at Oxford College of Emory University. In 2005, she served as co-director of the Oxford College Strategic Planning Committee that resulted in a comprehensive ten-year plan for the College, a key component of an overall University strategic plan.

As head of the Oxford College Library, McNeill collaborates with the directors of the other Emory libraries on cooperative projects such as systems, preservation, electronic resources, and coordination of resources, services, and policies.  She led the Digital Library Services and Next Generation Systems Strategic Planning Group for the Emory libraries and coordinated the implementation of discoverE, the university's search and discovery tool for library resources. Further, she steered the Core Systems Advisory Group for the Emory Libraries for a number of years.

Oxford College completed construction of a new Library and Academic Commons in May 2013. The project was a complete renovation and expansion of the existing library structure. Kitty led the planning for this transformative project. As a part of her PhD program she completed an ethnographic study of a proof-of-concept library space that informed the design of the new library facility.

McNeill is the former co-chair of the Rothrock Award Committee of the Southeastern Library Association (SELA). She was elected to serve as the 2004-2005 College Library Section Secretary of the Association of College & Research Libraries (ACRL). She served on the editorial board of the JCAL: the Journal of Cognitive Affective Learning and has presented or published on information literacy, the Scholarship of Teaching and Learning (SoTL), open access electronic journals, and ethnographic study of library spaces to inform building design.

McNeill received her Bachelor of Science from Winthrop College and a Master of Librarianship degree from Emory University. She attained her Doctor of Philosophy degree from Simmons College in May 2017.  The title of her dissertation is Leadership Influence to Transform Organizational Cultures. Kitty completed the ACRL/Harvard Leadership Institute in August 2000. She is a 2006 Peabody College Library Leadership Fellow and a 2007 Frye Institute Fellow. In September 2013, she received the Oxford College Honorary Alumna Award from the Oxford College of Emory University Alumni Board.
CONTACT INFORMATION
T:
F:
MAILING ADDRESS
Oxford College Library
801 Emory Street
Oxford, GA 30054
United States