Types of Reviews
Systematic Review | Structured Literature Review | Literature Review | Rapid Review | Scoping Review | Integrative Review | Sources
Systematic Review 
Requires a team of at least three members to screen and adjudicate included articles.
Includes a clearly defined research question formulated in a PICO framework.
Requires a written protocol that may be registered with PROSPERO or another registration agency.
Includes a systematic and replicable search strategy using multiple databases. Often two of the following:

PubMed/MEDLINE
EMBASE
Web of Science
     plus a subject-specific database such as:
ERIC 
CABI Global Health
PsycInfo
CINAHL

Often also includes a search for grey literature and hand-searching methods.
Generally follows reporting guidelines such as PRISMA.
Structured Literature Review
Not formally defined.
Usually attempts to include elements of the systematic review process.
Often conducted as a postgraduate assignment or thesis.
Literature Review
A general term that describes a study that assimilates, synthesizes or describes the findings of more than one study or review.
This is a review with a wide scope and non-standardized methodology. Synthesis is typically narrative.
The literature search does not need to be comprehensive or systematic.
These reviews typically do not attempt to address a single research question, but are more broad in scope and have no explicit criteria for inclusion.
Rapid Review 
Reviews that generally follow the guidelines of a systematic review, but are conducted in a condensed time by implementing documented time-saving measures.
Shortcuts may include:

Searching only one database.
Narrow search time frame.
Reliance on published material only.
Use of a single screener.
Scoping Review 
A literature review that is performed to rapidly outline the breadth, depth and type of literature available regarding a particular research topic.
An attempt to map out the evidence based on a research topic.
The completeness of the search is dictated by time restraints. This type of search may include research in progress.
Integrative Review 
May be useful in research areas where there are few published trials.
May include literature from experimental and non-experimental research methodologies.
Often implemented by the nursing research community.
Sources
Boland, A., Cherry, M. G., & Dickson, R. (2014). Doing a systematic review: a student's guide. London; Thousand Oakes, California: SAGE.
Colquhoun, H. L., Levac, D., O'Brien, K. K., Straus, S., Tricco, A. C., Perrier, L., . . . Moher, D. (2014). Scoping reviews: time for clarity in definition, methods, and reporting. J Clin Epidemiol, 67(12), 1291-1294. doi:10.1016/j.jclinepi.2014.03.013
Foster, M. J., & Jewell, S. T. (2017). Assembling the pieces of a systematic review: guide for librarians. Lanham: Rowman & Littlefield.
Grant, M. J., & Booth, A. (2009). A typology of reviews: an analysis of 14 review types and associated methodologies. Health Info Libr J, 26(2), 91-108. doi:10.1111/j.1471-1842.2009.00848.x
Guyatt, G., Rennie, D., Meade, M., Cook, D., & American Medical Association. (2015). Users' guides to the medical literature. A manual for evidence-based clinical practice (Third edition. ed.). New York: McGraw-Hill Education Medical.
Hopia, H., Latvala, E., & Liimatainen, L. (2016). Reviewing the methodology of an integrative review. Scand J Caring Sci, 30(4), 662-669. doi:10.1111/scs.12327
Library, B. U. Systematic and Literature Reviews. Retrieved from http://libguides.brown.edu/Reviews/types 
Whittemore, R., & Knafl, K. (2005). The integrative review: updated methodology. J Adv Nurs, 52(5), 546-553. doi:10.1111/j.1365-2648.2005.03621.x
Why Wait For Help?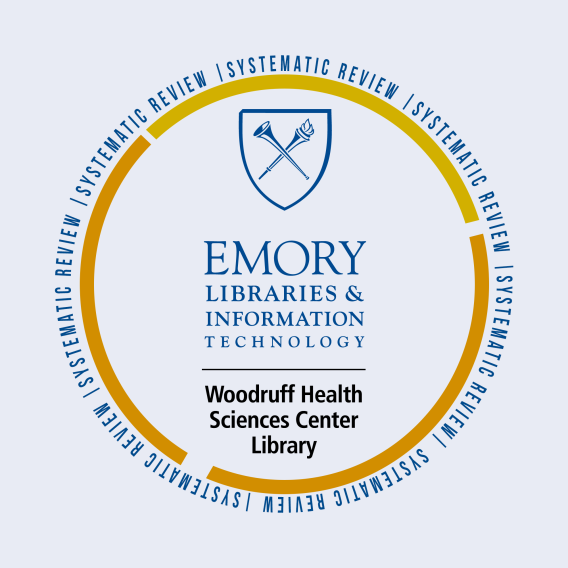 Contact the Systematic Review Service team to schedule a consultation today!
Our SRS team offers two tiers of support for Emory research groups conducting guideline updates, writing book chapters, or publishing reviews.