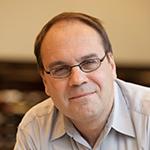 Phil MacLeod
Spanish, Portuguese, and Latin American Studies Librarian
Education
PhD

,

Latin American Studies

,

Tulane University

,

New Orleans, LA

MA

,

Latin American Studies

,

Tulane University

,

New Orleans, LA

BA

,

Political Science

,

University of Iowa

,

Iowa City, IA
Professional Profile
Languages spoken: Spanish and Portuguese

Phil MacLeod joined Emory's Robert W. Woodruff Library in 2008 as Bibliographer for Latin American & Caribbean Studies, Spanish and Portuguese. He holds a BA in Political Science from the University of Iowa, an MA and PhD from Tulane University (both in Latin American Studies) and an MLIS. Phil has worked in various capacities for Tulane University's Latin American Library, as well as for the Yale University Libraries' Latin American Collection and Manuscripts & Archives Division. Prior to his arrival at Emory he was the Librarian for Spanish, Portuguese and Latin American Studies for the University of California, Irvine.

Phil is a member of the Seminar on the Acquisition of Latin American Library Materials (SALALM) and currently serves on its 3 member Nominations Committee. He has served as Chair SALALM's Subcommittee on Electronic Resources. He also completed a three-year term on the Executive Board of the Latin American Microforms Project (LAMP) in July, 2013. Phil is also a member of the Latin American Studies Association (LASA).

Over the past 5 years Phil has made acquisitions trips to Argentina, Bolivia, Brazil, Chile, Colombia, Ecuador, Mexico, Peru, Uruguay, Trinidad & Tobago, Spain and Portugal to the expand the Emory University Libraries' collection of Spanish, Portuguese and Latin American holdings.
MAILING ADDRESS
Robert W. Woodruff Library
541 Asbury Circle
Atlanta, GA 30322
United States