Connect to Emory Libraries Digital Resources
Helping authorized users more easily connect to Emory Libraries licensed digital resources from anywhere in the world.
Table of Contents
Who Has Access
Emory University, like many of our research university peers, allows only current Emory students, faculty, and staff to connect to licensed digital resources off campus.
Emory University alumni have remote access to a select number of premium digital resources.
How to Access
Nearly all of the Libraries licensed digital resources can be accessed off campus by connecting to them through Databases@Emory or eJournals@Emory. When connecting you will be asked to agree to the Emory Libraries Resources Terms of Use by logging in with your Emory NetID and password (see screenshot below).
If you have problems connecting, please submit a request for assistance via our form for reporting issues with ejournals and databases.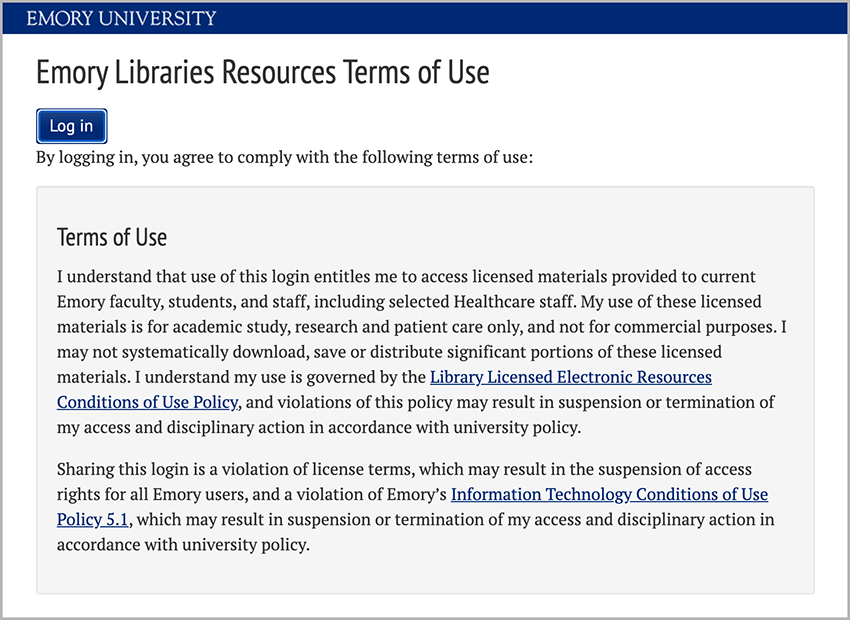 Alternative Method for Manual Access 
The Libraries use a proxy server to ensure licensed digital resources are available to the Emory community. If you have a direct link to a digital resource (e.g. an ejournal, article, or ebook) you can manually create a URL to authenticate as an Emory user and gain access by appending the url prefix http://proxy.library.emory.edu/login?url=, followed by the URL of the digital resource you wish to access.
For example, the link that would provide you access to JSTOR (jstor.org) looks like this: http://proxy.library.emory.edu/login?url=http://www.jstor.org
For your convenience, the library has created an Emory Proxy Resolver Bookmarklet that you can use to automatically create the proxy URLs mentioned above. Review our guide for more information on how to install and use the Emory Proxy Resolver Bookmarklet. If you have problems connecting, please submit a request for assistance via our form for reporting issues with ejournals and databases.
Troubleshooting Tips 
If you are having trouble gaining remote access or getting error messages when trying to authenticate, there are a number of possibilities to explore:
Try using a different browser
Make sure that you are not using a bookmarked page of the site you are trying to access. If the URL changes even slightly, that can shut you out.
Clear your cache (i.e. browser history) to make sure that your computer is not trying to save your work from a previous visit or auto fill with an unrelated username and password.
Reboot your computer, which sets the clock speed to a higher value and may improve the processing power needed to connect remotely.
If these tips don't work, please report your problem to AskEJ, using this form or by e-mailing AskResourceServices@emory.libanswers.com. 
Please submit NetID and password issues to Emory IT at 404-727-7777. Assistance with troubleshooting for general operating systems is available for students from Student Technology Support (STS). 
Remote users can also set-up Emory VPN Access. Virtual Private Network (VPN) provides off-campus users with secure access to Emory University's internal network. Contact the Emory University Service Desk at 404-727-7777, if you need assistance with your VPN Installation.
Access From International Locations 
The Libraries proxy server (described above) allows users anywhere in the world to connect to the Libraries licensed digital resources. Use the Databases@Emory or eJournals@Emory page to find and connect to these digital resources.
If you have problems connecting:
If you are an international student impacted by internet restrictions or other difficulties, please contact your Student Advisor and/or speak with your professors about possible accommodations.