March 22, 2016
- June 19, 2016
|
Robert W. Woodruff Library
"Many of the topics that we address in this exhibition are ones that are still being discussed in Atlanta." — Laura Starratt
Curated by Erica Bruchko, W. Michael Camp, Louis Fagnan, Kristin Morgan, and Laura Starratt, the exhibition will illuminate how Atlanta citizens confronted the trials of a rapidly evolving metropolis during the second half of the 20th century. It will focus on four areas:
The end of the county-unit political system in Georgia and the revitalization of the state Republican Party;
How Georgia responded to the federal mandate to integrate the public schools;
The effect of advocacy in social planning; and
The involvement of neighborhood associations.
"Many of the topics that we address in this exhibition are ones that are still being discussed in Atlanta," says Starratt, who is also a manuscript archivist in the Rose Library.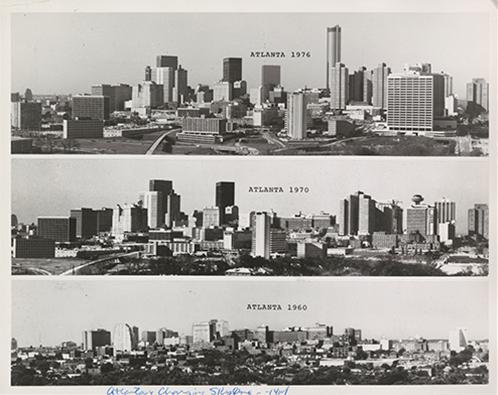 Atlanta skyline over the years.
VISITOR INFORMATION