March 10, 2023
- May 31, 2024
|
Oxford College Library/Oxford
"Amid a groundswell of national attention to racial and social injustice in the summer of 2020, Emory professors and students joined with Atlanta artists later that fall to explore how creative thinking and artistic expression can inspire change. "
The Arts and Social Justice Fellows Program was envisioned as an opportunity for faculty members to work alongside partnered ASJ fellows to embed creative projects reflecting on social inequities into existing courses.
This exhibit highlights the collaborations between those ASJ fellows and faculty with students at Oxford College. Devon Goss, assistant professor of Sociology, and Leo Briggs, choreographer, partnered for the course Introduction to Sociology. In The Feminist Art(s) of Activism Alix Olson, assistant professor of Women's Gender and Sexuality Studies, and Shanequa Gay, Visual Artist, collaborated with students to create a visual quilt and spoken word poem imagining how feminist modes of activism can shape global discourse.
To learn more about these projects please visit emoryasj.org.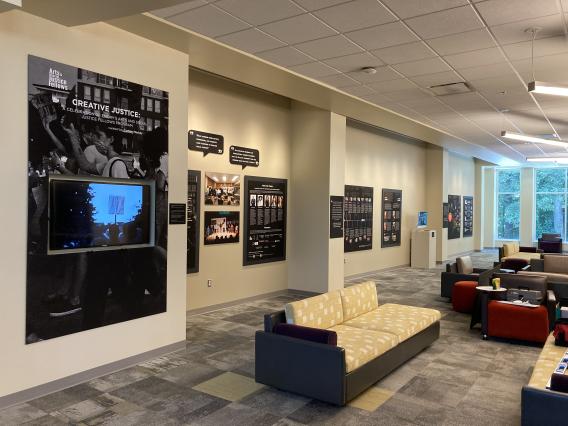 VISITOR INFORMATION