March 17, 2023
- May 13, 2023
|
Robert W. Woodruff Library
"Amid a groundswell of national attention to racial and social injustice, Emory professors and students joined with the Atlanta artist in the fall of 2020 to explore how creative thinking and artistic expression can inspire change. "
The Arts and Social Justice Fellows Program was envisioned as an opportunity for faculty members to work alongside partnered ASJ fellows to embed creative projects reflecting on social inequities into existing courses.
This exhibit provides a survey of the collaborations between those ASJ fellows and faculty with students. Components of the exhibit feature the work of Jim Alexander, renowned Atlanta photographer, and Hank Klibanoff, veteran journalist who directs the Georgia Civil Rights Cold Cases Project at Emory, along with other notable fellows and faculty working with students to translate their learning into creative activism in the name of social justice.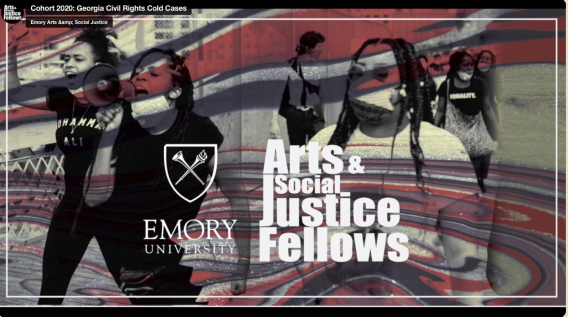 VISITOR INFORMATION