February 02, 2020
- March 03, 2022
|
Georgia Public Library Services
"My hope is that this partnership with Georgia Public Library Service will raise awareness about Rose Library and that we see increased use of the Black women writers' collections by Georgia residents." — Gabrielle M. Dudley
In partnership with the Stuart A. Rose Manuscript, Archives, and Rare Book Library at Emory University, Georgia Public Library Service is touring "She Gathers Me: Networks Among Black Women Writers" to libraries statewide.
Originally on display at the Rose Library, the exhibit was curated by the Rose's own Instruction Archivist, Gabrielle M. Dudley. "She Gathers Me" examines the connections found within intimate correspondences, personal projects, and speaking engagements and furthers our understanding of the interconnectedness of Black women writers beyond their published works. The exhibit features luminaries like Alice Walker, Audre Lorde, Pearl Cleage, Tayari Jones, and others.
Dudley drew inspiration for "She Gathers Me" from similar projects she'd collaborated on in the past as well as the Rose's ever growing archival holdings related to Black women writers.
The Rose Library was exploring the idea of traveling exhibits when they became aware of the many exhibits that regularly tour public libraries in Georgia, and realized "She Gathers Me" as the perfect fit.
"She Gathers Me" is a colorful mosaic of six upright banners exploring the insights, experiences and relationships of the featured authors with each panel dedicated to a specific aspect of their community: Collective; Sister Writers; Dialogue; and Remembrance so their works are never lost.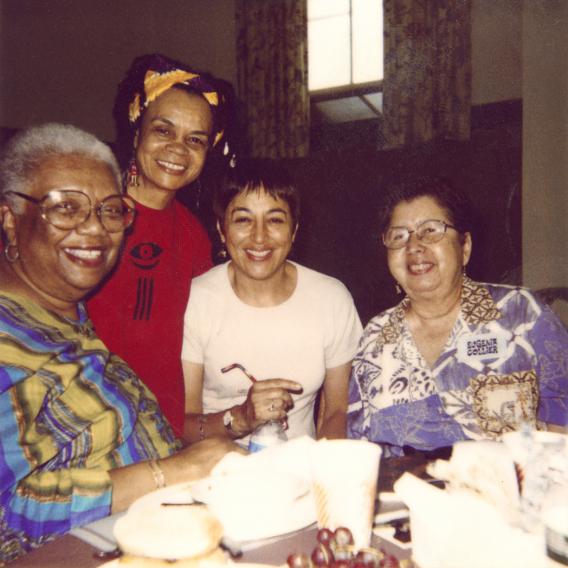 She Gathers Me exhibition
VISITOR INFORMATION