January 01, 2020
- May, 2025
"Archives, those which document the lives of African American artists, are essential to telling the complex stories relative to the development of black life in 20th and 21st century America." – Pellom McDaniels III, Curator of African American Collections
Due to COVID-19, travel for this exhibition has been suspended.
"Speak What Must Be Spoken: Art, Archives, and Activism" is the culmination of projects initiated in 2016 around the theme of black art and activism by the late Pellom McDaniels III, Rose Library's curator of African American collections. McDaniels curated "Still Raising Hell: The Art, Activism, and Archives of Camille Billops and James V. Hatch," a major exhibition in the Emory Libraries main gallery during 2016-2017.  
Emory Libraries selected "Still Raising Hell" as the basis for the Libraries first K-12 exhibit to serve community schools. Barbara Coble of Emory University's Graduation Generation Education Partnership joined the Libraries' team and led the development of curriculum aligning with state standards for excellence supporting fine arts classes and social studies and English/language arts. 
The Libraries exhibitions team adapted elements of the original exhibition and created new elements for installation in a school setting. "Speak What Must Be Spoken" now consists of 10 units that can be used alone or combined with others.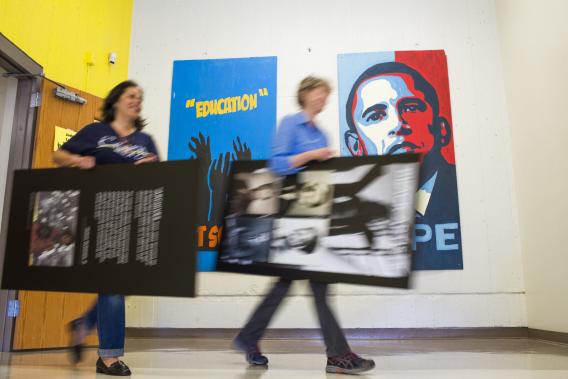 Installation process image at MLK Middle School in Atlanta, GA
VISITOR INFORMATION