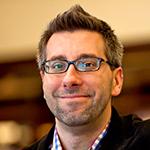 Chris Palazzolo, PhD
Head of Collection Management and Social Sciences Librarian
Education
PhD

,

Political Science

,

Emory University

,

Atlanta, Ga.

BA

,

International Studies and French

,

Rhodes College

,

Memphis, Tenn.

MA

,

Political Science

,

Emory University

,

Atlanta, Ga.
Professional Profile
Chris Palazzolo earned his BA in International Studies and French at Rhodes College in Memphis, Tennessee. He holds an MA and PhD in Political Science (with a concentration in West European politics) from Emory University.

He first began working at the Robert W. Woodruff Library in 2003 as a fellow in the Electronic Data Center where he assisted patrons with quantitative data requests and worked on an XML-based search engine for data resources. He returned to the library in 2004 as the subject liaison for political science. Since then, he has become the social sciences team leader, overseeing collections and services in said disciplines. He is also the liaison for Economics and Educational Studies. Chris now also acts as the head of collection management for Woodruff Library and oversees and manages the materials budget (databases, print and electronic collections and AV).   Chris serves as the services liaison with digitization and digital curation and heads up the digitization selection committee.   He also serves as an adjunct professor in the political science department.

Chris has been involved in many cross-divisional activities across the library, including general assessment, collection evaluation and assessment, digitization and digital projects, library instruction, and electronic resource management.

He recently completed his duties as chair of the Review and Planning Committee of the Law and Political Science Section of ACRL (which he previously chaired in 2009-2010).  He is also a member of the ACRL Roundtable Discussion and Research Planning and Review Committees.

Chris's current interests include library data assessment in all its forms (with emphasis in collections), digital collections (including ebooks), and interdisciplinary studies support and collaboration. Chris continues to be interested in European politics (and in particular, regional and minority politics in the EU) and will be teaching a course on French Politics in Spring 2014. He also is interested in pursuing a master's in French, as he is an avid Francophile."
MAILING ADDRESS
Woodruff Library
540 Asbury Circle
Atlanta, GA 30322
United States