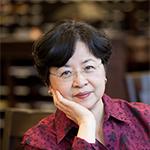 Guo-hua Wang
International Area Studies Team Leader
Education
SLA

,

Library Automation

,

University of Wisconsin-Madison

,

Madison, WI

MS

,

Library and Information Sciences

,

Rosary College of Arts and Sciences

,

Dominican University, River Forest, IL

BA

,

Anhui University

,

Hefei, Anhui Province, China
Professional Profile
Languages spoken: Chinese
Guo-hua Wang is the leader of the International Area Studies (IAS) team. The IAS team serves the Emory Community in the areas of African Studies, East Asian Studies, Jewish Studies, Latin American & Caribbean Studies, Middle East & Islamic Studies, Russian & East European Studies and South Asian Studies. As the Chinese Studies librarian, Guo-hua also manages the collection development, research consultation and library instruction for Emory's Chinese Studies program.
Before joining the Robert W. Woodruff Library in the mid-1990s, Guo-hua served as the head librarian of the School of Journalism & Mass Communication at the University of Wisconsin-Madison, a supervisor at the Fine Arts Library of Harvard University, and the Search Unit Coordinator of Boston University General Library.
Her scholarly publications include journal articles including "LLOLI: Language Learning Oriented Library Instruction" in the Journal of East Asian Libraries, "Introduction to the work on Missionary Archives to China" in China Index, "China's Higher Education Reform" in China Currents and Young John Allen's Political Activities during Late Qing Dynasty through Two Manuscripts in 天禄论丛. Guo-hua Wang also published the book, "Guide to Archives of Missionaries to China Collected in Woodruff Library at Emory University" in both English and Chinese. It has become an important reference book for Chinese Studies scholars who are interested in the impact of missionaries' work on Chinese history and the transformation of Chinese society. Her second book "Roads to Ivy League Colleges" has been translated into Chinese and published by an Educational Press in China.
Guo-hua Wang earned her BA from Anhui University in China, Master of Arts in Library and Information Science from Rosary College, and a Specialist degree in Library Automation from the University of Wisconsin-Madison Graduate School. She is a member of Beta Phi Mu, an International Library Science Honor Society.
MAILING ADDRESS
Woodruff Library
540 Asbury Circle
Atlanta, GA 30322
United States