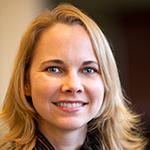 Kristan Majors
Science Librarian (Computer Science; Environmental Studies; Math)
Education
MS

,

Library and Information Sciences

,

University of South Carolina, Columbia

,

Columbia, S.C.

BS

,

Ecology

,

University of Georgia

,

Athens, Ga.
Professional Profile
Kristan Majors Chilcoat began working for Emory in 2001 and supports the Environmental Sciences, Mathematics, and Computer Science departments.
Kristan is a graduate of Emory's Piedmont Project and is available to work with faculty and students across campus as needed on environmental and sustainable development research and teaching projects.
Kristan was trained as an ecologist and earned her BS from the Institute of Ecology (known today as the Odum School of Ecology) at the University of Georgia. Her field experience includes studying jellyfish as potential environmental indicators for the Florida Bay and tracking mice to study habitat fragmentation at the Savannah River Ecology Lab (SREL). While at UGA, Kristan also had the great opportunity to work with Dr. Eugene Odum, "the father of modern ecology," in the Odum Library.
MAILING ADDRESS
Woodruff Library
540 Asbury Circle
Atlanta, GA 30322
United States