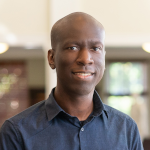 Lawrence Hamblin
Japanese Studies Librarian
Education
BA

,

Biology

,

Amherst College

,

Amherst, Mass.

MS

,

Library and Information Science

,

Syracuse University

,

Syracuse, NY
Professional Profile
Languages spoken: Japanese and Korean

As the subject librarian for Japanese Studies and Korean Studies, Lawrence Hamblin is responsible for acquisitions, cataloging, and collection management of print, electronic, and audiovisual resources related to Japan and Korea, as well as reference, instruction, outreach, and research assistance. He has served on internal working groups related to information literacy, library assessment, and collection planning.

In addition to his work at Emory, Lawrence is a member of several committees within the Council on East Asian Libraries (a subunit of the Association for Asian Studies) and the North American Coordinating Council on Japanese Library Resources.
Lawrence's current research deals with language policy in Japan, particularly as it pertains to the teaching of Japanese to laborers from foreign countries. His other interests include collecting accurate data about Emory's holdings of East Asian resources, acquiring rare Japanese materials for use as primary sources in the classroom, and mentoring those new to the field of librarianship.
MAILING ADDRESS
Woodruff Library
540 Asbury Circle
Atlanta, GA 30322
United States