Complementary Programming
Along with a full slate of sessions, panels and performances, the symposium will feature these related and ongoing exhibitions that are open to all attendees.
Table of Contents
---
Last updated September 21, 2021.
Symposium Exhibitions 
Sept. 29-30 at Emory Campus 
The Brushes that Paints the Lens of our History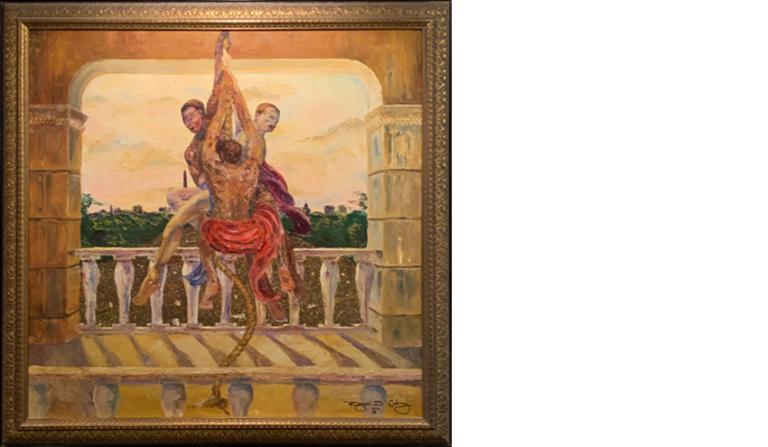 Photo Credit: "Let Freedom Ring" by Raymond B. Cody
Location: Emory Campus Student Center
A selection of paintings from "The Slavery Collection" created by fine artist Raymond B. Cody. "The Slavery Collection" reflects how the American dream of peace, acceptance and equity may not be obtainable, and the reality of the past often comes to the artist in dream form. Through that lens, he uses his brushes to illustrate the pain and cruelty of injustice during slavery and its impact on African American families yet today.
Nightmares within an American Dream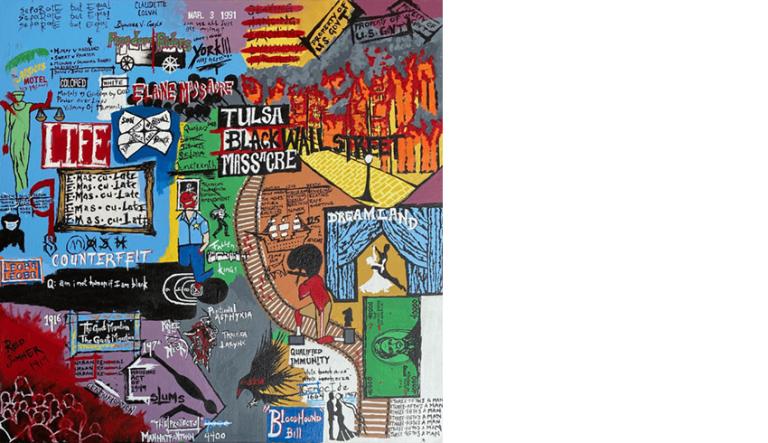 Photo Credit: "Nightmares within an American Dream" by Frank Luster III
Location: Emory Campus Student Center
Frank Luster III has created a work of art that captures an idea of talent and opportunities taken away before they were even discovered, and how the ruling class has spoiled: "The American Dream." While, the ruling class is dreaming, others are living a nightmare in a system designed to: keep some in fear and limit their ability to succeed and live; emasculate races; strip away cultural identity; and force individuals to choose between slavery or death.
Sept. 29-30 at Emory & Oct. 1 at Oxford 
Slavery & Freedom in Antebellum Savannah: Reinterpreting History Through Virtual Learning Experiences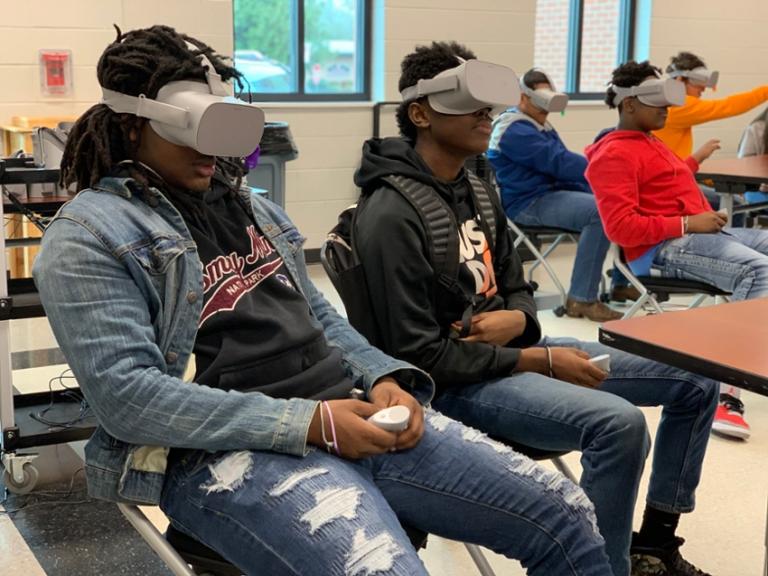 Photo Caption: Students explore the complexities of slavery and freedom in antebellum Savannah using Oculus Go headsets. Photo courtesy of Georgia Public Broadcasting Education.
Location:
Emory Campus Student Center, Sept. 29-30
Oxford Campus Student Center, Oct. 1
Georgia Public Broadcasting Education and Telfair Museums have created a virtual learning journey to explore the complexities of slavery and freedom in antebellum Savannah through the lens of the Owens-Thomas House & Slave Quarters. Key concepts are presented through interactive elements like primary source letters and images, navigable maps, videos, and a virtual walking tour. Exploring the virtual content via Oculus Go headsets, participants will learn about the connections between the institution of slavery and the global economy and discover what one city can teach us about society and culture before the Civil War.
Gordon Chapel & The Making of a 'Black Town'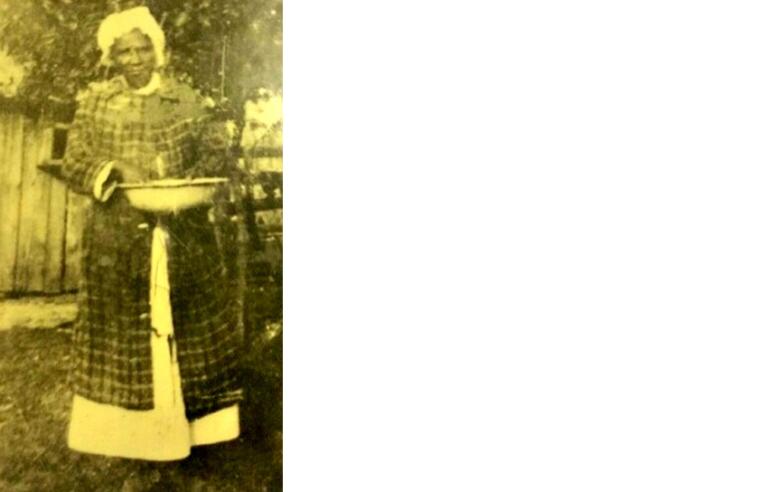 Photo Caption: Ida Gordon (c. 1854 – 1939), daughter of Andrew Tillman Gordon, II. 
Photo courtesy of Pat McCullough.
Location: 
Emory Campus Student Center, Sept. 29-30
Oxford Campus Student Center, Oct. 1
Crystal Joy Anderson shares her extensive research into how Black settlements were formed in the South. She focuses on the story of Tillman Gordon, who served in the Civil War, and three years afterward purchased 40 acres of land from an early white settler in North Central Florida. He and his family went on to acquire hundreds of acres. This digital presentation will tell a brief history of how Gordon Chapel, a Black settlement, came to be.
Oct. 1 at Oxford Campus 
She Gathers Me: Networks Among Black Women Writers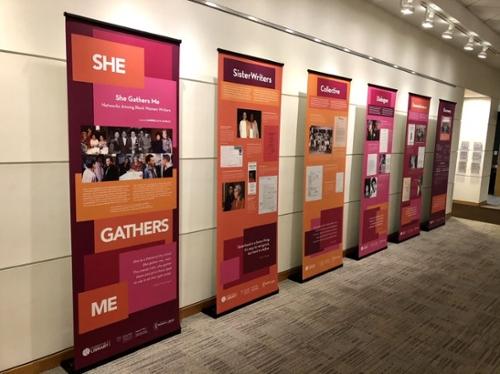 Location: Oxford Campus Student Center, Oct. 1
This is a traveling version of the exhibit originally on display at Emory's Rose Library. Curated by Instruction Archivist, Gabrielle M. Dudley, She Gathers Me examines the connections found within intimate correspondences, personal projects, and speaking engagements and furthers our understanding of the interconnectedness of Black women writers beyond their published works. The exhibit features luminaries like Alice Walker, Audre Lorde, Pearl Cleage, Tayari Jones, and others.
Ongoing Exhibitions 
Opening Sept. 25 
Each/Other: Marie Watt and Cannupa Hanska Luger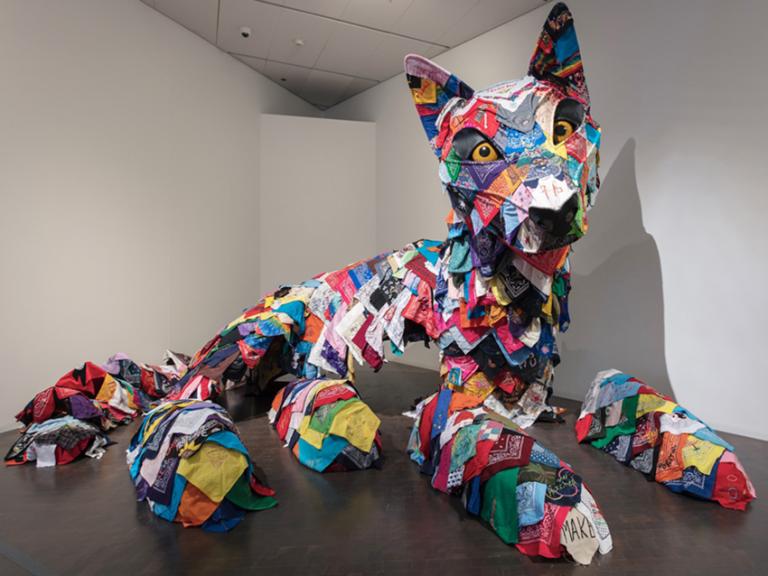 Photo Credit: Cannupa Hanska Luger (Mandan, Hidatsa, Arikara, Lakota, European) and Marie Watt (Seneca and German-Scots), Each/Other, 2020–21. Steel, wool, bandanas, ceramic, leather, and embroidery thread. © Cannupa Hanska Luger and Marie Watt. Photography © Denver Art Museum
Location: Carlos Musuem
Available: Sept. 25 - Dec. 12, 2021
Exploring the collective process of creation, Each/Other will feature over two dozen mixed-media sculptures, wall hangings, and large-scale installation works by Marie Watt and Cannupa Hanska Luger, along with a new monumental artist-guided community artwork. While each artist's practice is rooted in collaboration, they have never before worked together or been exhibited alongside one another in a way that allows audiences to see both the similarities and contrasts in their work.
Opening Sept. 29 
Confronting Slavery in the Classical World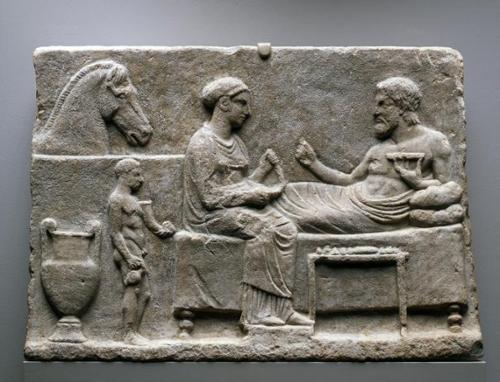 Photo Caption: Votive Relief with Banquet Scene, Greek, 4th Century BCE, Carlos Collection of Ancient Art
Location: Carlos Museum
Available: Sept. 29 - Dec. 19, 2021
Many museum displays of ancient Mediterranean art distance or even dismiss the reality of slavery in the ancient Greek and Roman worlds. This exhibition redresses this lacuna by staging an intervention in the Carlos Museum's galleries. New labels, written with Emory undergraduates as part of HIST 241/ ANCMED 202R Facing the Slave in Classical Antiquity and the Modern Museum (Fall 2020), accessible in the galleries and online, will highlight objects in the permanent collection that either depict enslaved people or help elucidate the realities of slavery in classical antiquity. These labels will prompt viewers to consider the untold and unseen histories that can lie behind conventional (art) historical narratives.
Exploring From The Archives: Black Student Activism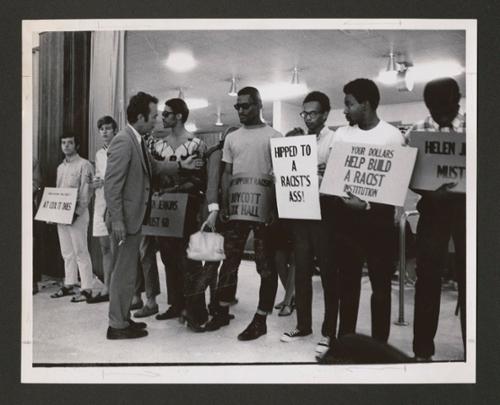 Location: Woodruff Library, Level 2
Available: Sept. 29, 2021
"Exploring From the Archives: Black Student Activism" is a physical exhibit based upon engagement with the online exhibit "From the Archives: Black Student Activism." Selected documents from the Emory University Archives tell a story of the 1969 protests in which Black students presented a list of demands to the administration challenging it to improve the experience of being a Black at Emory. The exhibit seeks to encourage others to view these materials and to further explore for themselves the more extensive holdings and resources of the online exhibit.
———
"From the Archives: Black Student Activism" is an online exhibit under development that exposes archival evidence of Black student activism as it exists in the University Archives at Emory University. Evidence of student life and activism appears in correspondence, newspaper articles, memos, and reports. However, records and archival materials of student groups are not as robust as those of programs, departments, offices, administrators, presidents, trustees, etc. In fact, the archives hold few records documenting the Black Student Alliance itself. Bureaucratic, legal, social, and cultural reasons account for these gaps in documentation, which the University Archives are currently trying to address.  
The materials presented in the online exhibit are not exhaustive but represent months of searching, reading, citing, digitizing, and compiling. It is the hope that those who take the time to closely read these materials will have a more complete picture of what it took for Black students to make change at Emory and be inspired to further engage through research.
Opening Sept. 30 
Masquerade: Scripturalizing Modernities Through Black Flesh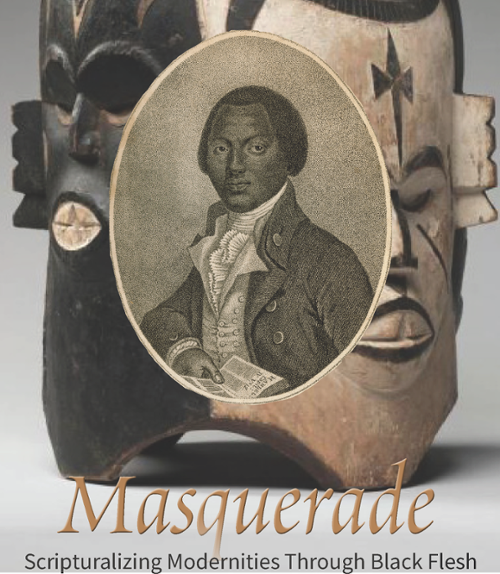 Location: Pitts Theology Library, Online Only
Opening Sept. 30, 2021
Curated by Vincent Wimbush. Through focus on the masquerade — the "play-element" in culture — this exhibition opens a window onto the performances, dynamics, arrangements, psycho-logics, and politics ("scripturalizing") by which modernities are made (-up to be) natural or fixed ("scripturalization"). Racialization as the hyper-signification (racialism/racism) of difference in human flesh ("scripture") is identified as the primary impetus behind and reflection of the realities of modernities. The open window onto these realities is facilitated by an "interesting" 18th century "mask-ing" or "self"-invention story told by a complexly positioned Black-fleshed "stranger" — Olaudah Equiano/Gustavus Vassa.
Opening Oct. 1 
The Work is Never Finished—Building an Inclusive Archives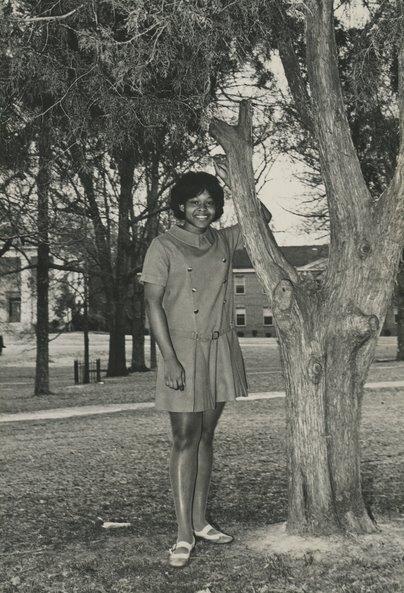 Photo Caption: Angela "Ann" Jinks (now Ann Slaughter) was one of three African American students admitted to Oxford College of Emory University in 1968. Photo credit: Oxford College Archives, Emory University. 
Location: Oxford College Library
Opening: Oct. 1, 2021
For this exhibition, Oxford College Library's Archives & Special Collections Team has selected a small number of records, publications, and artifacts to illustrate aspects of early Emory College and Oxford College of Emory University history that have not yet been fully explored by researchers.
This exhibition provides insight into sensitive and troubling events in the college's history. While great care has been taken to create space in the archives for the experiences of historically excluded and minoritized groups, especially the individuals named or involved in these events, the majority of the collections reflect the perspectives of privileged white men. Material related to ongoing efforts to acknowledge the legacies of slavery and dispossession still impacting the institution are also included, providing opportunities to consider ways to transform present struggles through intentional and sustainable change.
Current Exhibits 
Social Justice and Confronting Racism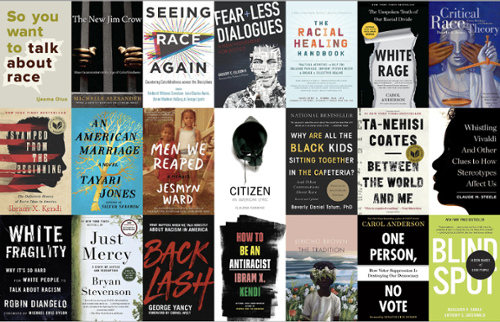 Location: Robert W. Woodruff Library, Level 2
This exhibit highlights the Emory Libraries' efforts to confront racism and promote social justice and presents resources that can be found online. These include recommended titles for reading, additional library resources, and links to other campus organizations joining the movement.
Speak What Must Be Spoken: Art, Archives, & Activism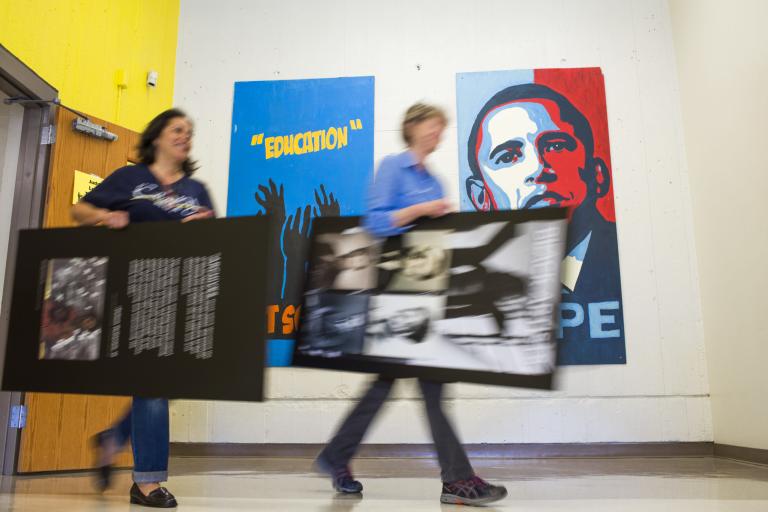 Location: Traveling Exhibit
This traveling exhibit is the culmination of projects initiated in 2016 around the theme of black art and activism by the late Pellom McDaniels III, Rose Library's curator of African American collections. McDaniels curated "Still Raising Hell: The Art, Activism, and Archives of Camille Billops and James V. Hatch," a major exhibition in the Emory Libraries main gallery during 2016-2017.
What Must Be Honored: The Exhibitions of Pellom McDaniels III, PhD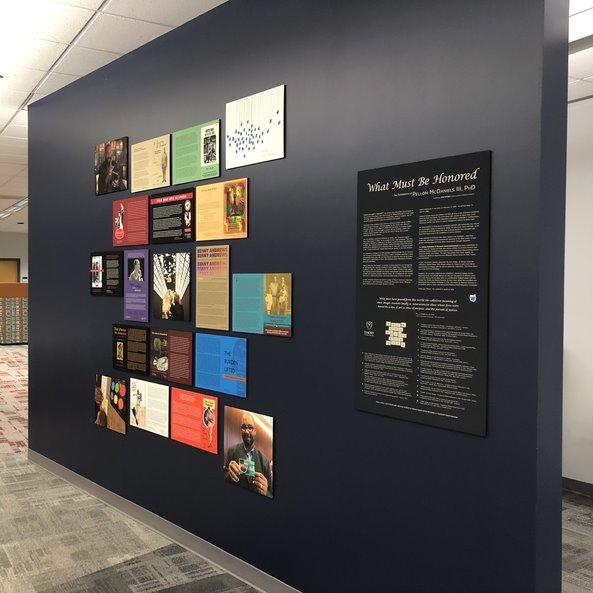 Location: Robert W. Woodruff Library, Level 1
         While most have passed from this world, the collective meaning of their images resonate
         loudly as veneration for those whose lives were bound by a love of art, a sense of purpose,
         and the pursuit of justice.
               -Dr. Pellom McDaniels III
As a graduate student, faculty member, and curator of African American collections Pellom McDaniels III, PhD was a fundamental contributor to the Emory Libraries exhibitions program for many years. He was a passionate advocate for individual growth and social change through education and the arts. This tribute is a physical installation on Level 1 of the Robert W. Woodruff Library at Emory University. A bit of this great human's presence, artwork, and writing invite patrons to join in his passion for learning from the unparalleled African American collections of the Stuart A. Rose Manuscript, Archives, and Rare Book Library he helped build.